How do Activate Wireless Global SIMs Work?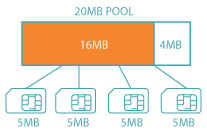 Group Data Across SIMs
Looking for some flexibility with your plans? With Activate Wireless Global SIMs, every SIM on the same plan type groups together to create an effective "Pool" of data, for example 10 x 5MB SIM cards gives you a pool of 50MB.
If your SIMs exceed your group limit, they will still keep operating but will result in excess usage charges billed at a per KB rate.
Where can I use the Activate Wireless Global SIM?
*Countries subject to change, we advise checking with Activate Wireless before deployment
Afghanistan | Albania | Algeria | Andora| Antigua | Argentina | Armenia | Aruba | Austria | Azerbaijan | Bahrain | Bangladesh | Barbados | Belarus | Belgium | Belize | Bermuda| Bhutan | Bolivia | Bosnia & Herzogovina | Botswana | Brazil | Brunei | Bulgaria | Burkina Faso | Cambodia | Cameroon | Canada | Chad | Chile | China | Colombia | Congo | Cook Islands | Costa Rica | Croatia | Curacao | Cypres | Czech Republic | Denmark | Dominican Republic | Ecuador | Egypt | El Salvador | Estonia | Ethiopia | Faroe Islands | Fiji | Finland | France | French Guiana | Gambia | Georgia | Germany | Ghana | Gibraltar | Greece | Greenland | Guam | Guatemala | Guinea Bissau | Guyana | Hong Kong | Hungary | Iceland | India | Indonesia | Iran | Iraq | Ireland | Isle of Man | Israel | Italy | Ivory Coast | Jamaica | Japan | Jersey | Jordan | Kazakhstan | Kenya | Kiribati | Korea | Kuwait | Kyrgyzstan | Lao | Laos | Latvia | Lebanon | Lesotho | Liberia | Liechtenstein| Lithuania | Luxembourg | Macau – CTM | Macedonia | Madagascar | Malawi | Malaysia|Maldives | Mali | Malta | Maritime | Mauritania | Mauritius | Mexico | Micronesia | Moldova | Monaco | Mongolia |Montenegro | Morocco | Mozambique | Myanmar |Namibia | Nepal | Netherlands | New Caledonia | New Zealand | Nicaragua | Nigeria | Norfolk | Norway | Oman | Pakistan |Palestine | Panama | Papua New Guinea |Paraguay | Peru | Philippines | Poland | Portugal | Puerto Rico | Qatar | Reunion | Romania | Russia |Rwanda |Samoa | Satellite | Saudi Arabia | Senegal | Serbia | Seychelles | Sierra Leone | Singapore | Slovak Republic | Slovenia | Solomon | Solomon Islands | South Africa | South Sudan | Spain | Sri Lanka | Sudan | Sweden | Switzerland | Syria | Tahiti | Taiwan | Tajikistan | Tanzania | Thailand | Timor | Tonga | Trinidad | Tunisia | Turkey | United Arab Emirates | Uganda | UK | Ukraine | Uruguay | USA | Uzbekistan| Vanuatu | Vietnam | Yemen | Zambia | Zimbabwe |
Contact Us