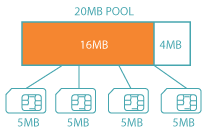 Group Data Plans (Flexible Pool)
Looking for some flexibility with your plans? The group plan is a perfect option for devices with varying usage patterns. With the group plan, every SIM on the same plan type groups together to create an effective "Pool" of data.
For example 10 x 5MB SIM cards gives you a pool of 50MB.
If your SIMs exceed your group limit, they will still keep operating but will result in excess usage charges billed at a per KB rate.